Profile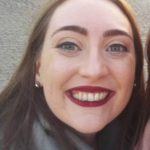 Katherine Benson
Working from home during the pandemic to find out how our genes affect our health
My CV
Education:

I did a degree in University College Cork, I then did my PhD in Queen's University Belfast in Northern Ireland.

Qualifications:

I have a degree (BSc) and a doctorate (PhD)

Work History:

Since recently competing my PhD, I have worked for the last year in the Royal College of Surgeons in Dublin as a researcher. I've also worked in a book shop, a pharmacy and as a piano teacher.

Current Job:

I am a genetics researcher in RCSI, Dublin
About Me

I study people's genes to try to understand why they might be ill.

Read more

I am a twenty-something researcher and work in Dublin. I research people's genes, which are parts of your personal biological instruction manual. These genes help to explain what colour hair or eyes you have, whether you like brussel sprouts and sometimes why a person is unwell. You share many of your genetics with your family and inherit changes to your genes from both of your parents. I am interested in music and have worked as a piano teacher and I also absolutely love food

Read more

I act like a detective, trying to find the small changes in your instruction manual (a bit like finding a single spelling error in the phonebook) which is the reason why you are sick. I spend a lot of time on the computer to do this, but I also spend time in the lab wearing a white coat!

My Typical Day

My working day includes wearing a white coat in the lab, but also sitting at a computer running special computer programs to help understand my lab results.

Read more

I head to the lab for a couple of hours, putting on my white coat and using DNA samples from spit and blood to 'sequence' or read patient's genetic code. This work involves using tiny amounts of liquids in tiny tubes. I then use the results from this lab work to link the changes we have found in the patient's genes to why they are feeling ill.

What I'd do with the prize money

I would use the money to promote and raise awareness of the use of genetics research to better understand rare, neurological diseaes

Read more

I would use the money to fund a public engagement project. This project would invite participants from our rare neurological disease study and the FutureNeuro projects as well as their friends and family to an event in RCSI. At this event, we could show the patients who donate their DNA, time and medical history to research how we analyse data, the challenges involved in our research work and the importance of sharing data with other research groups across the globe.
My Interview

How would you describe yourself in 3 words?

Curious resourceful and persistent

What did you want to be after you left school?

I knew from a very young age that I wanted to be a scientist

Were you ever in trouble at school?

Yes, it did happen!

Who is your favourite singer or band?

A band called The National

What's your favourite food?

Vegetables (honestly!)

What is the most fun thing you've done?

Travelling to new places with my friends and with work

If you had 3 wishes for yourself what would they be? - be honest!

I'd wish for health, happiness and a never ending supply of cakes

Tell us a joke.

Knock knock... Who's there?... Cows go....Cows go who?.... No silly, cows go moo.
My profile link:
https://green.imascientist.ie/profile/katiebenson/
---
---